New Orleans student, 16, shot to death in California | Crime/Police
Every morning before heading to the bus stop, Nakia Banks' son would say the same thing: "Mom, be safe, I love you."
Banks, of New Orleans, said she lived with a fear familiar to many mothers of black teenagers, but she knew her son, Thomas "Paulie" Smith, Jr., was a good, mama's boy. and joker with a penchant for playing. pipes.
But on the morning of December 17, thousands of miles from home, her 16-year-old son was shot to death in a park in Antioch, California.
"For my child to survive in New Orleans and go all the way there and be killed, that doesn't make sense to me," Nakia Banks said in a recent interview.
Family trip ends in tragedy
The family was visiting Banks' sister in Antioch, in the San Francisco Bay Area, to celebrate Banks' sister's graduation from a nursing program. Banks, who was originally from California, said they hadn't been back in three years and wanted to get together as a family before the holidays.
"[Paulie] was so, so excited to see his cousins," she said.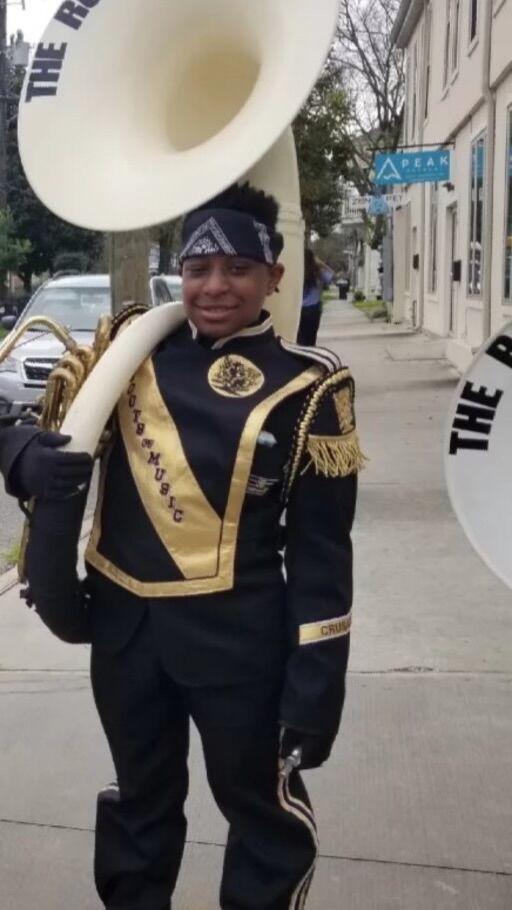 Just as he did before leaving for the bus station in New Orleans, Paulie told his mother to be safe that morning in Antioch. She repeated the phrase to him and warned him not to leave her sister's house. Banks went back to sleep and was awakened by her sister's screams around 11:30 a.m.
By the time she reached Williamson Ranch Park, less than a block away, paramedics surrounded Paulie, who had been shot multiple times. She held his hand and knew he was gone.
Paulie remembered
On December 26, family and friends gathered at Joe Brown Park in New Orleans and released dozens of balloons into the starry night sky. Several posters showed Paulie Smith posing with his family members, one of him smiling in a Roots of Music band uniform. Candles wrote his nickname.
"If he could see the people there, he would know he was loved," Banks said.
Paulie was a sophomore at Edna Karr High School in Algiers. He had previously attended the Pierre A. Capdau Charter School.
Banks described her son as a "typical teenager" who loved to dance and draw, especially anime and Marvel characters. He loved all kinds of music – rap, pop, R&B, old and new.
He was playful, she said, often joking and quick to offer a hug or kind words to anyone who looked like they might be having a bad day.
For the past 10 years, Paulie had a steady, bi-weekly appointment with Anthony "Tank" West at the Barber Beauty Center and Natural Hair Salon on Broad Street.
West said his jovial personality had been evident since his first visit as a young man, when he would travel around barbers and "mess with everyone" in the shop. As he grew older, he sought advice from West about girls and other life matters.
"He was like a little brother," West said. "All the lives lost to senseless crime is sad, but I really got to know him."
When he was 8, Paulie joined Roots of Music, an organization that offers young people the opportunity to play an instrument in a marching band for free, Banks said. Paulie had never played music before, but for the next six years he practiced the pipes, wearing the black and gold Roots of Music uniform to march in parades where he was cheered on by his mother.
Last year, he joined the Edna Karr marching band, directed by Christopher Herrera. After school every day, his mother would pick him up from marching band practice.
"Paulie never went anywhere without me because I was his designated driver," she said. "It just doesn't seem real."
The vehicle, the suspects are wanted
The Antioch Police Department did not respond to questions about the investigation, but KTVU, a local news station there, reported that police were looking for a dark-colored sedan that was seen leaving a parking lot near the park. No arrests have been announced. Police believe Thomas and his cousin met the occupants of the vehicle, the TV station reported.
Banks has since returned to her home in New Orleans East, but authorities in California have not returned her son's body.
"It's very difficult to come back here and my child is not here," she said. Since she arrived home, their gray pit bull, Miya, has been crying. She slept next to or in Paulie's bed.
"He was a good kid and he will be greatly missed," Banks said.