Sacramento beaming with pride over Kings' seismic turnaround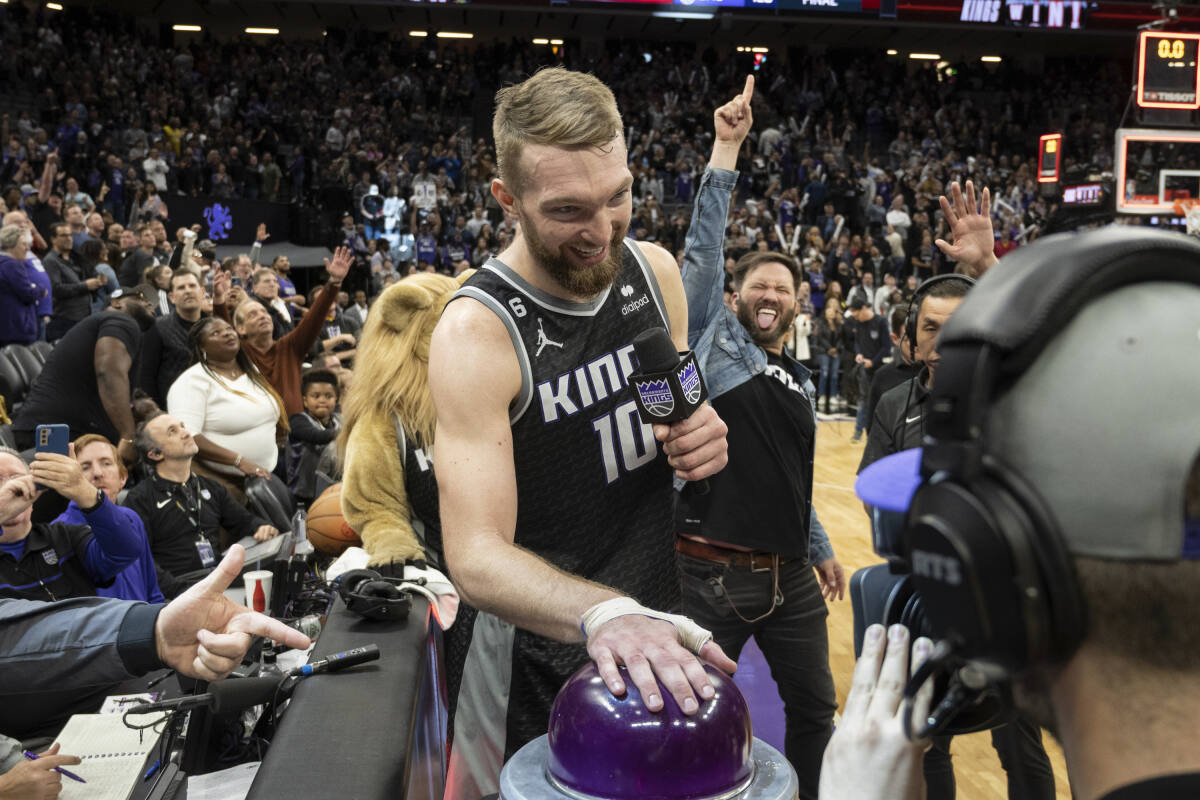 It was just under a year ago that former Warrior and Hall of Famer Chris Mullin had a clever joke about the Sacramento Kings.
It was early May and the Kings had closed out the regular season in their usual fashion – losing. They finished 30-52, their 16th straight season without a winning record.
They had just announced that Warriors assistant Mike Brown would be their new head coach. Of course, Brown didn't take over right away. He stayed with the Warriors through the playoffs, which were about to begin.
"You know," Mullin said, "this is the first time the Kings have had anybody in the playoffs in 16 years."
Ha.
Harsh, but you couldn't say it wasn't true. The last time the Kings were in the postseason was 2006. That 16-year drought was the longest in major American professional sports.
You had to wonder what Brown was getting himself into.
But who's laughing now?
While the Warriors have gone through an up-and-down season that has them in, then out and then back in the playoffs, the Kings feel good about powering through the NBA.
They have consistently been among the top three in the Western Conference and have challenged Denver for first place. They're not just a lock to make the playoffs; it seems that they will host a postseason series.
Along the way, they have become America's darlings. People love an underdog story, and the Kings, especially stars De'Aaron Fox and Domantas Sabonis, seem to be a likable bunch.
They even have an unusual victory celebration – a dazzling purple beam that shoots into the sky from their arena after victories. It can be seen for miles around Sacramento.
If you doubt the appeal of the Kings, consider the fans who chanted "Turn on the Beam" when the team won its 42nd game of the year. Kick? That game was in Brooklyn.
That win secured the Kings for that elusive winning season and reinforced the idea that Brown is the prohibitive favorite for coach of the year. I mean, there are twists and turns and then there are big seismic shifts that change the culture. This is the latter.
Not only does Brown deserve the credit, he has a sizable rooting section around the league.
Brown is friendly and, well, friendly. (Personal story: My wife ran into him in the produce aisle at Gus's Market, near the arena. She introduced herself. He chatted with her and was so charming that she now refers to him as "my son Mike Brown.")
So you'd assume Brown is handing out warm cookies and teddy bears to his relatively new roster.
And you would be wrong.
Last month, the Kings flew to New York to face the playoff-bound Knicks. The game was televised nationally, giving the country a look at a convincing 122-117 victory. A win in the Big Apple with the whole world watching? You had to like it, right?
Wrong.
"You would have thought we lost," sixth man Malik Monk said. "He came in and said the game was terrible. We gave up 23 offensive rebounds. It was horrible. And hell, I agree with him."
That's the other thing – Brown has the bills. He wasn't an assistant all his life, hoping for a chance to coach.
Brown was the head coach of the Cleveland Cavaliers from 2005-2010. On that team he had a kid named LeBron James and they went all the way to the NBA Finals in 2007.
Brown already has one coach of the year trophy, from 2009 with the Cavs. He coached the Lakers in 2011, then coached in Cleveland again for a year.
But a coach can only do so much. Sacramento had real and deep problems. They always seemed to draft the wrong guy or make a dumb trade.
The franchise has been rumored to be sold to (among others) Anaheim or Seattle. And players have complained about Sacramento's small-market atmosphere. Former star forward Chris Webber, one of the Kings' biggest names, has publicly said he never wanted to play for the Kings.
That's why drafting Fox with the fifth pick in the 2017 draft has turned out to be a great move.
Fox, an All-Star this year, has probably been told he could get more endorsements and build a bigger reputation if he were in a bigger population center.
But he doesn't have it. He mentions the "passionate" Kings fans who have supported the team through years of wandering in the desert.
"I want to be here," he told the Sacramento Bee. "I want to go to the playoffs with this team and I hope to be a contender for the championship. Because if you're able to win in this city, you're going to feel a lot better than winning anywhere else."
Also, there is another key factor – one of those "terrible" Sacto trades.
Last February the Kings arranged a complicated six-player deal with Indiana. Other players were involved, but essentially it came down to trading rising star guard Tyrese Haliburton for Sabonis, a 6-11 veteran.
You don't have to spend a lot of time on Google to look back to see how the trade was considered by many people. "The Kings Made a Big Mistake" is a representative title.
But after a slow start to his NBA career, Sabonis turned it around after three years, and has basically averaged a double-double ever since.
He's also an All-Star this year, and not only has he provided the team with a big presence on the floor, but, like Fox, he sounds happy to be a King.
He and his wife decided to buy a home in wine country, choosing a location in Napa. He's embracing the lifestyle, hosting the team for wine tastings and meals. He says he likes her.
And he says, after a win, he can see that purple beam in his rearview mirror all the way home.
Contact CW Nevius at [email protected] Twitter: @cwnevius