Bighorn news: Oasis students carol through downtown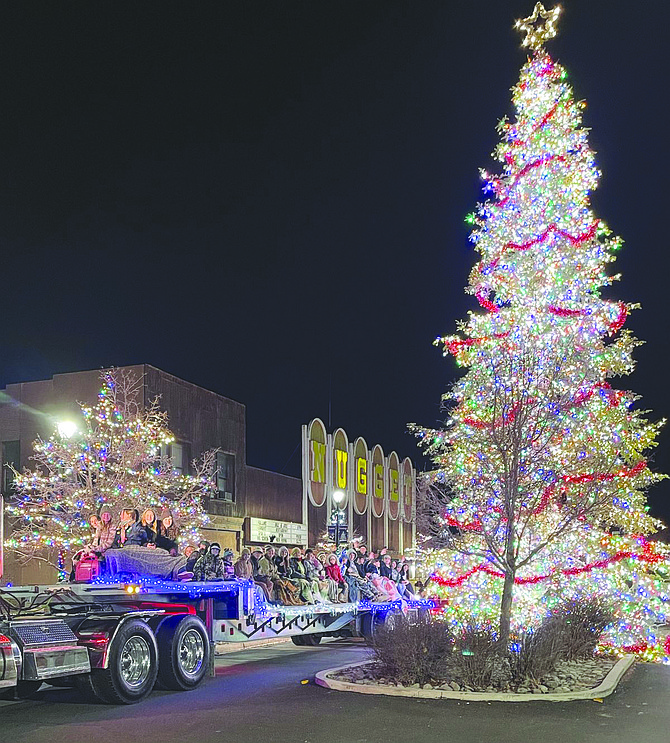 Oasis students recently went on a caroling spree through downtown Fallon.
Spotlight: Yasmine Barnes
Oasis Academy college prep senior Yasmine Barnes started school in seventh grade. While Barnes may have been shy to begin with, the Bighorn environment quickly helped him feel at ease.
"When I first came to Oasis in seventh grade, I was very shy and quiet," Barnes said. "I was too scared to talk to anyone, but after a while I quickly got to know more people. Everyone was nice to me and helped me get out of my comfort zone. I had a lot of friends and I was less shy than before."
Barnes said one of her favorite memories from Oasis was her first school dance.
"Before going to Oasis, I had never been to a school dance before," Barnes said. "But going to my first one was super fun and exciting. I brought some of my friends and we had a great time dancing and singing along to the music."
Throughout her high school career, Barnes has been active in cheerleading and recently played volleyball, basketball and lacrosse.
"I would like to thank Mrs. (Shayna) Byrd, because when I first came to Oasis in seventh grade, she was always so kind and helpful to me and always made me feel comfortable," Barnes said.
Barnes will graduate in May with her Associate of Science from Western Nevada College and high school diploma. She plans to move to Reno and attend the University of Nevada, Reno after graduation.
"The advice I would like to give to future students is to try hard in your schoolwork and make it your goal to get good grades," she said. "Even if you are struggling in a class, ask your peers or teachers for help. School work should come before sports, video games, etc.
High School FFA presents for merchandise
Seventh and eighth grade FFA students studied agriculture statistics in each of Nevada's 17 unique counties. Students were paired up and tasked with researching relevant information, creating a display and then presenting the information to staff and fellow students. The project was designed by high school FFA instructor Page Hiskett.
"Students had to learn the commodities and crops grown in the given county as well as the livestock raised," Hiskett said. "Students also learned about the amount of irrigated acres, the county seat, and the population for each county. Student exhibits included the shape of each county and neighboring states."
Students sing around town
Eighth grade and FFA students spent an evening singing carols through the streets of Fallon to help spread Christmas cheer. The groups were taken in a truck trailer owned by Mr. Charlie Morrow of Action Crane and Trucking.
FFA students went on December 12th after their regular meeting.
"It was definitely a cold night, but the Christmas caroling is an annual tradition for the Oasis Chapter of FFA," said FFA reporter Eneyde Rios. "It's always a pleasure to interact with the community through events like this. People are amazing as they come out and wave. We are extremely grateful to Mr. Morrow and Action Crane and Trucking who drove us.
The eighth grade class continued the festivities by singing Tuesday night carols.
"This tradition was started by dedicated teachers and has become an all-time favorite," said CEO Melissa Mackedon.
After a chilly night of caroling, the eighth graders return to school for their annual gift exchange. The class draws a friend's name and buys a gift for him.
The tradition for eighth graders has been going on since the school started in 2011.