County school board honors its outgoing trustees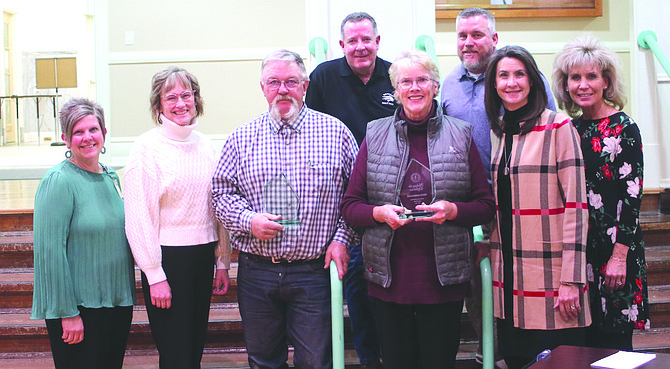 Churchill County School Board trustees take their final group photo together. From left are Superintendent Summer Stephens and trustees Kathryn Whitaker, Fred Buckmaster, Gregg Malkovich, Carmen Schank, Matt Hyde, Tricia Strasdin and Amber Getto.
Members of the Churchill County school board and district administration recently thanked two trustees who are leaving public service.
Carmen Schank, who was born in Churchill County and attended schools here, retired more than a decade ago from teaching music, art and third grade after a 20-year career. After both parents died, the school board had a vacancy.
Trustees appointed Schank to the school board in January 2012 to fill the remaining year, and she was elected to a two-year term later that year. Schank said she became a trustee when Carolyn Ross was superintendent.
"We were renovating the old high school," she recalls, adding that her first meetings took place in the former district office bordering Oats Park.
During her tenure, Schank said there have been many challenges, but she credits her colleagues for making sure students get a good education.
"It has been an honor to serve the community and I appreciate your trust and I have done my best. I've been true to myself."
Former Trustee Richard Gent thanked Schank and Fred Buckmaster for their service. Gent, who served for 12 years before being fired, commended them for their dedication to the school's students and staff. Gent served with Shank for two terms.
Schank said she has enjoyed working with her colleagues.
"I appreciate the board," she said. "We have a good board."
In 2018, when she ran for re-election, her goals were safety first, high expectations for academic achievement and growth for all students, fiscal transparency and accountability, parent and community involvement, and best practices in technology implementation. , personalized and blended learning and character building.
Buckmaster is also a former teacher, having taught vocational education at Churchill County High School. When he sought his first term more than four years ago, he said, "I don't feel I'm the 'best qualified,' (but) I feel I'm qualified to serve in this capacity. I have been involved in education all my life in one aspect or another. I think my sensible approach to education will be very useful."
The Churchill County native comes from a long line of educators. His father, Lou, was a teacher, administrator and custodian, while his mother, Jan, taught elementary grades. One sister, Kathy, teaches secondary English.
"I want to thank the board and the voters for electing me to the board," Buckmaster said.
He characterized the last four years as a little trying, a little frustrating. However, Buckmaster did not seek another term, not because of his tenure on the school board, but because he and his wife bought a farm in Eureka County.
Buckmaster said he may run for the Eureka County School Board.
"I loved it," Buckmaster said of his tenure as trustee. "I like public service. People who have an interest in doing this should step up and do it."
Schank and Buckmaster were advocates for career and technical education. Buckmaster said in 2018 that he wanted to be a strong voice for the CTE program and praised his experience in the classroom. Buckmaster said he would research issues and talk to people and be a productive part of the school board.
Schank said that prior to her third term, factors affecting the school district included the quality of education and academics, parent engagement, technology and the character count program.
Colleagues thanked Buckmaster and Schank.
Trustee Matt Hyde said Buckmaster and Schank were involved in improving the board's focus. Board President Tricia Strasdin congratulated both individuals and thanked them for their careers in teaching and on the school board.