Update: National Weather Service issues flood watch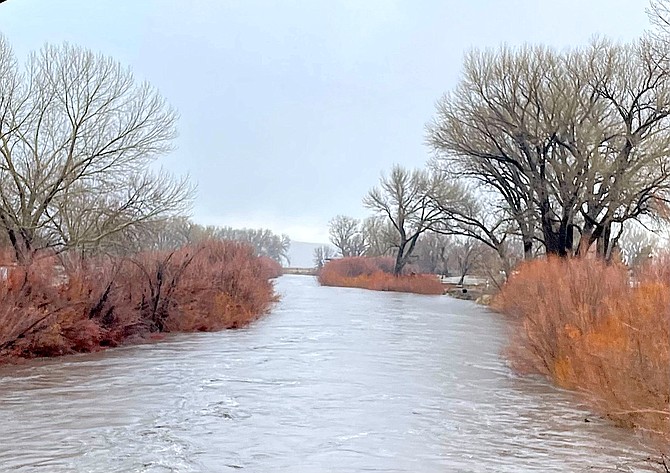 The Carson River is crawling toward Willow Bend as it rises from rain and snowmelt. Tara Addeo's photo
Less than 12 hours after the Carson River near Willow Bend calmed, forecasters issued a flood watch for the upcoming New Year's weekend.
The watch begins at 7 a.m. Friday as another warm atmospheric stream arrives in western Nevada and lasts until 4 a.m. Monday.
"Mainstream flooding is most likely to occur on the East Fork of the
Carson near Gardnerville," the statement said. "Outflows could result in road closures, causing travel impacts."
On Tuesday night, the river crested at Willow Bend north of Genoa Lane prompting residents to prepare for flooding.
The river calmed down without any serious flooding, but it was an indication of what the next storm could do.
"High snowpack and prolonged heavy precipitation will allow significant rise in both mainstream and smaller rivers and streams," according to a National Weather Service statement issued at 9:30 a.m. today. "This could result in minor to moderate flooding in some rivers and streams in the area. Rockfall will be possible, especially on steep terrain and where soils are already saturated. Some urban flooding is likely, especially in low-lying areas or poor drainage."
Not helping matters is that on Thursday, snow is expected to fall at lower elevations with 2-4 inches at lake level and up to 2 inches in the Western Nevada foothills.
Any snow that falls below 6,500 feet will likely join rain in valley drains Friday, causing already saturated ponds to rise.
Forecasters urged residents living near the river to take precautions if flooding occurs.
PREVIOUS STORY
As river gauges read below flood stage, residents near Willow Bend north of where the river crosses Genoa Lane are putting down sandbags to keep the river at bay.
Warm rain melted the snow Tuesday morning sending a surge down both banks of the Carson River.
Gauges placed at Woodfords on the West Fork and below the old Power Dam on the East Fork showed the crest of the river far from even the stage of action.
The East Fork crested at 12.28 feet entering Carson Valley at 11:15 a.m. The West Fork at Woodfords hit 10.18 feet at 10:45 a.m
But residents south of where the two forks meet are in particularly low-lying ground and often end up flooding before the rest of the Carson Valley.
The other gauge is located in Carson City where the river passes south of Prison Hill. As of 7 p.m., the gauge was reading 4.82 feet and was expected to rise to 5.5 feet by midnight.
With another storm surge in the forecast, residents along low-lying regions should expect high water again on New Year's Eve.
"Future storms will lead to additional rise in rivers and streams," said Senior Service Hydrologist Tim Bardsley. "Rivers and streams may respond more quickly than today due to the primitive nature of today's and last night's rain. Expect additional flooding impacts in urban and impoverished areas with similar or somewhat worse drainage than those experienced today."
The East Fork is forecast to reach the 13-foot action stage at 7 p.m. Saturday, meaning Willow Bend should see high water reach around midnight.
The West Fork is expected to crest at 11.4 feet for several hours beginning around 2:00 pm Saturday.
The river is expected to crest just before the action in Carson City at 4 a.m. Sunday.
Bardsley said creeks and small streams will see big rises Friday, especially when drainages are below 6,500 feet.
"No major river flooding is currently forecast, but it cannot be completely ruled out if Thursday through Saturday's storms come in wetter and warmer than currently expected."